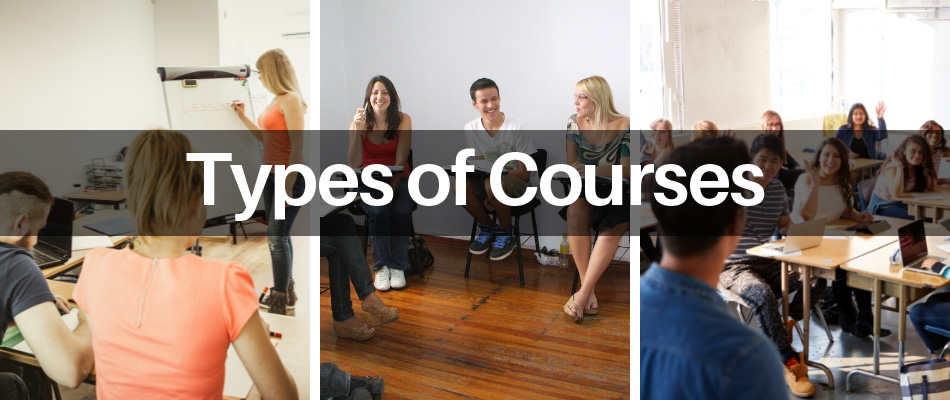 Types of courses we offer
Our courses have a communicative approach filled with opportunities for personal expression activities that stimulate real communication. Students participate in discussions and they put into practice vocabulary, idiomatic expressions, and phrases while they express their ideas.

Here are all the options:
Intensive Spanish Courses
( in Buenos Aires)
Full Immersion Spanish Courses
( in Buenos Aires)
Private Lessons
Private Groups
Live Online Group Courses
Live Online private lessons
Intensive Spanish Courses
4 hours a day
Through time spent on oral communication activities, you will be able to improve your fluency and you'll learn different aspects of the language, and you'll also be able to practice oral communication skills.

Our Intensive Spanish Course is designed to ensure better communication between students and teachers, as well as familiarize with the Argentine culture. You will be able to expand your vocabulary and work on phonetics as you are immersing yourself in the Spanish Language in our country. This will also allow you to expand your vocabulary.
Mo
Tues
Wed
Thu
Fri
09:00 to 10:50
Spanish classes
10:50 to 10:10
break
10:10 to 13:00
Spanish classes
Full Immersion Courses
4 hours a day + activities
Our full immersion Spanish language learning programs in Buenos Aires, Argentina include: homestays, language classes, group excursions, cultural visits and weekend trips.

Practicing Spanish outside the class is a big part of an immersion program. Students will have intensive Spanish language classes 4 hours a day. Outside class, they will practice their new language skills with tours, activities and in their homestay family.

Morning classes

You will study Spanish with intensive language classes in a Spanish-only learning environment for four 4 hours a day.

Afternoon and evening activities

Daily cultural activities are programmed after the language classes.

Mo
Tues
Wed
Thu
Fri
09:00 to 10:50
Spanish classes
10:50 to 10:10
break
10:10 to 13:00
Spanish classes

Mo
Tues

weekend activities

(programmed itinerary)

| | |
| --- | --- |
| 14:30 a 18:30 | Programmed extra curricular activities (Monday to Friday) |
The purpose of the Spanish immersion program is to help students learn and practice the Spanish language both inside and outside the classroom.
Improve your Spanish skills by speaking it fluently, naturally, and with more confidence.

We will start our day in the classroom in the morning with a structured course based on a communicative, task-oriented approach that emphasizes communication.

Following that, the afternoon will be devoted to excursions around the area.
You will be able to adapt your linguistic knowledge to a variety of situations in which you will be able to express your feelings, points of view and acquire persistent linguistic knowledge as a result of participating in the socio-cultural activities.

So, as a result, learning the Spanish language becomes a natural process.
Private Lessons
You will be able to progress quickly on all Spanish levels of the European scheme for language training CEFR by enrolling in both group courses and private lessons.

If you decide to enroll in private lessons, here are the advantages:
It is more effective and affordable to take private Spanish courses since you are able to enhance your language skills faster than studying in a group.
There is no difference between private and group lessons in terms of content (grammar and vocabulary). It is

important

to note, however, that the number of hours needed to advance from one level to another may differ.
Because of this, if you are taking private lessons you may finish your levels faster than in a group setting. It's up to you how fast and how long you want to

go.

(The teacher will follow your pace).
Additionally, there are the following advantages:
You can decide the frequency and schedule of your lessons as long as you accomplish the number of hours per level.
You will also be in constant communication with your teacher who will correct your errors and give you direct feedback.
With Spanish private lessons, you can work with your instructor to find a time and day that works best for you.
You can get undivided attention from your tutor and solve your doubts faster.
Private Groups
We have always received groups of different sizes from all over the world.
We offer tailor-made Spanish language programs if you wish your group to study as a closed group.
All our host families are available for groups as well. Here students can speak Spanish with a friendly family and feel at home.
We organize free accommodations for group leaders. It can be in furnished apartments or host families as they prefer.
We organize EXCURSIONS and EXTRA-CURRICULAR ACTIVITIES for incoming groups. They are conducted in Spanish.
We organize a complete itinerary from the moment you arrive at the international airport. From that moment onwards, you will be able to follow our itinerary with all classes, lunch, activities, weekends, certificates, and even a farewell party.
We invite you to contact us in order to organize this memorable trip for your group. We can organize it together according to your needs.